Healthy employees
An Employee Wellness Program is designed to improve the health and well-being of employees at and away from the work environment. Aurora Health Care believes that by investing in the "healthy lifestyles" of your employees, your company will see the benefits in lower health care costs, higher productivity and reduced absenteeism.
Why invest in an employee wellness program?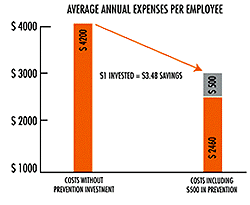 Small corporate investments produce noticeable reductions in health care costs:
$1 invested = $3.48 savings
Employers implementing wellness programs have achieved on average:
28% reduction in sick leave
26% reduction in direct health care costs
30% reduction in costs related to worker's compensation and disability
Healthier employees positively impact companies
Lower heath care costs: A study by American Sports Data found that on average exercisers were absent from work only 2.11 days per year as compared to 3.06 days for inactive adults.
According to a Health Partners study, employees who increased their levels of physical activity from 1 time per week or less to more than 3 times per week brought their medical costs down by $2,202 per year.
Lower employee turn-over rate: Healthy employees are happy employees and happy workers tend to be faithful, long-term employees – reducing the amount of time and money a company has to spend on hiring and training new personnel.
Reduced absenteeism: After creating an incentive-laced wellness program, the city of Glendale, AZ managed to reduce employee absenteeism, along with the number of workplace accidents by 50%. At the same time of implementation, their workforce tripled in number!
And, if you're the boss – lead by example! By offering and participating in an employee wellness program, you demonstrate how valuable your employees are to the company.
Sources:
"The Case for More Active Policy Attention to Health Promotion." Health Affairs, Volume 21, No. 2. March, 2002
"Preventative Care and Services in Workplace Health Plans"; Benefits and Compensation Digest, December 2004.
"Health Partners Study", Managed Care, August 2004