Why get moving?
With health care costs continuing to rise, one of the best investments a company can make is in its employees' wellness. At least 25% of the health care costs incurred by working adults is attributed to behavior that can be modified, including poor diet and lack of physical activity.
Regular physical activity – at least 30 minutes of moderate-intensity level activity (equal to a brisk walk) on 5 or more days per week – can improve blood cholesterol and triglyceride levels, reduce blood sugar, and boost confidence and self-esteem. Having trouble fitting 30 minute sessions into your busy lifestyle? Then, break it up into activity blocks of at least 10 minutes each. In addition to the physical health benefits, regular activity also enhances mood and performance, while reducing stress and helping to improve concentration.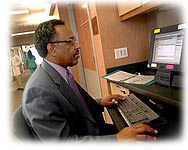 More than half (54%) of U.S. adults do not get the suggested minimum amount of daily exercise. Since most adults spend half of their waking hours at work, offering workplace physical activity opportunities and programs can help employees become more active. Research shows that worksites with physical activity programs have:
Reduced employer health care costs by up to 55%
Reduced short-term sick leave by up to 32%
Increased productivity by up to 52%
Keep it simple!
The most effective on-the-job programs tend to be simple and inexpensive, contain an incentive/goal/reward, and encourage participants to have fun! How do other companies creatively promote physical activity?
Take the Stairs Challenge (Aurora Sinai Medical Center has added music to the stairwells, converting them into "mini-gyms")
Coffee and lunchtime walks either around the building or the block
Team participation in charity 5K run/walks
Chart your individual mileage (or make it a team effort) on a map displayed in an employee area. Award an amazing prize to the first person/team to arrive at the pre-determined destination (ie, Milwaukee to Disney World in Orland)
On-site fitness/exercise classes, workshops, facility with equipment and showers
Corporate memberships to local health clubs/gyms
Walking scavenger hunt
Encourage employees to park "away" from the front door
Seasonal sports challenges
Office Olympics
Raffle tickets tied to steps walked. For every day that an employee walks 10,000 steps, their name is included in a drawing for gift certificates to a fitness store, an iPod or other items related to physical fitness.
Look for opportunities to be active throughout your workday.
Just how many calories are you burning during your day? Check out the chart!